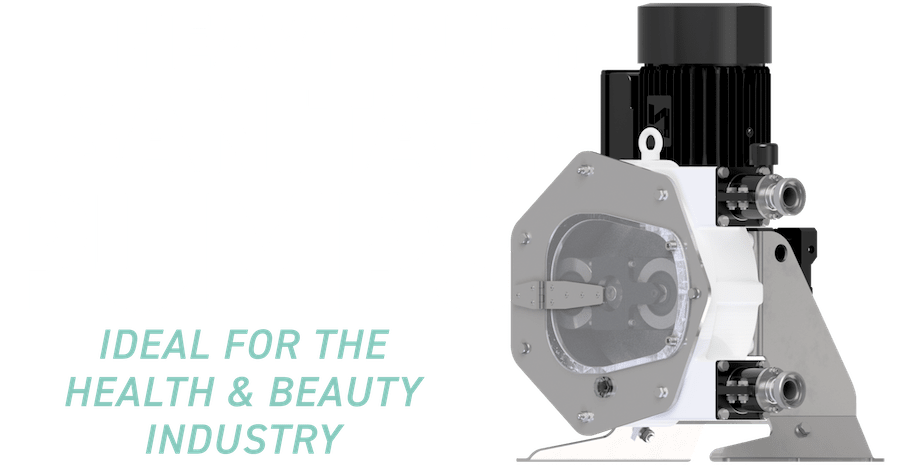 The Granzow sanitary peristaltic pump is an ideal solution for the unique, hygienic needs of cosmetic producers. A variety of features ease and accelerate clean-in-place (CIP) processes. The hose and fittings are the only components that come in contact with the flowing media and the rolling action of the pump creates a wave of liquid that carries solids through the pump without damaging them.
Key Benefits
Easy to assemble, operate and maintain
FDA-compliant NBR hose
Sanitary 316 stainless steel (SS) tri-clamp connections
Hinged front cover for easy cleaning
Roller assembly dismantles with ease
Reversible pumping to effectively flush media
Gentle pumping with maximum efficiency
Requires significantly less lubricant compared to shoe pumps
Full control of dosing with ±1% accuracy
Common Applications
Viscous gels and lotions
Dosing fragrances
Media with abrasives in the mixture
Chemical dosing
Metering coloring and glosses
Transferring thickening agents
Adding antimicrobial elements
Pumping from totes, barrels and containers
Bulk transfer of plant or essential oils
Transferring makeup or creams
Adding alcohols
Batch production of sensitive or hygienic material
Perfect for dosing liquids, transferring highly corrosive media or gently pumping difficult products that form gas during transfer.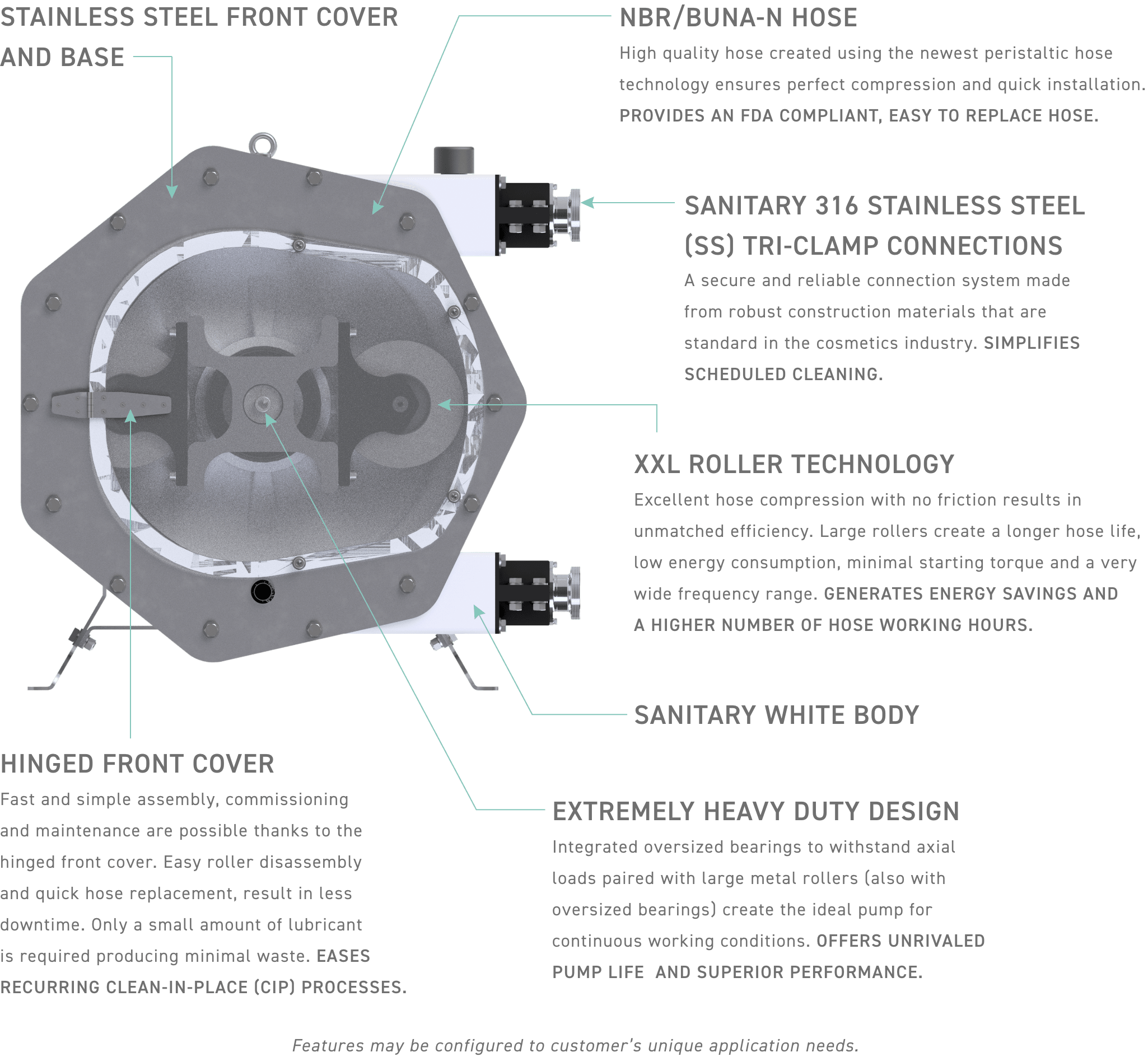 Stainless steel front cover and base
NBR/BUNA-N hose
High quality hose created using the newest peristaltic hose technology ensures perfect compression and quick installation. Provides an FDA-compliant, easy-to-replace hose.
Sanitary 316 stainless steel (SS) tri-clamp connections
A secure and reliable connection system made from robust construction materials that are standard in the cosmetics industry. Simplifies scheduled cleaning.
XXL roller technology
Excellent hose compression with no friction results in unmatched efficiency. Large rollers create a longer hose life, low energy consumption, minimal starting torque and a very wide frequency range. Generates energy savings and a higher number of hose working hours.
Sanitary white body
Extremely heavy-duty design
Integrated oversized bearings to withstand axial loads paired with large metal rollers (also with oversized bearings) create the ideal pump for continuous working conditions. Offers unrivaled pump life and superior performance.
Hinged front cover
Fast and simple assembly, commissioning and maintenance are possible thanks to the hinged front cover. Easy roller disassembly and quick hose replacement, result in less downtime. Only a small amount of lubricant is required producing minimal waste. Eases recurring clean-in-place (CIP) processes.